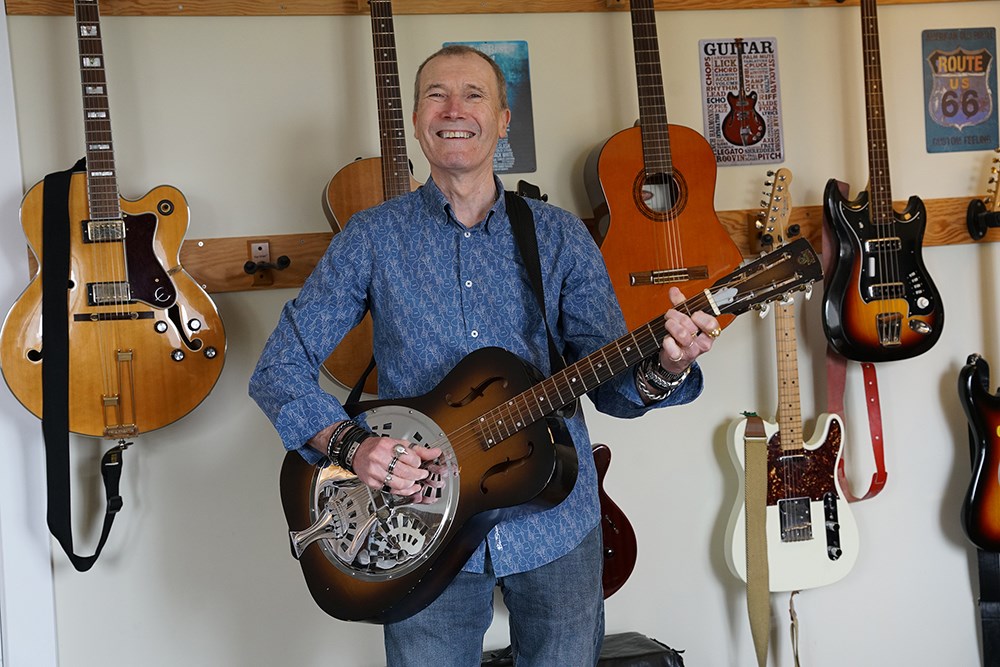 Famous Powell River guitarist talks about his new album
"This stuff that straddles the line between blues and jazz is the real sweet spot for me." ~Ron Campbell
In the vernacular of a musician, an ax is a guitar.
So, in his latest full-length album, Ron Campbell uses many different musical axes and genres to portray his musical vision. That's why the album is called Many axes, many styles.
The new album is instrumental. There were a few circumstances that actually motivated him to create his 17-song album.
"For the past year I've had a regular concert of instrumental music at the Garden Court Restaurant, and it got me thinking," Campbell said. "It's more of a challenge in some ways because you can't just strum the chords and sing the lyrics, you have to make something happen instrumentally. You have to carry a melody, which requires a lot of memory work.
Another factor is that the style of music he enjoys playing the most is the blues, which features prominently in his instrumental album's treatment.
"Blues is very, very simple music, and the melody of one blues song is very similar to the melody of the next blues song," Campbell said. "They all share a fairly common melody without too many variations.
"I've always wanted to prove to myself that even though I like playing this simple, unvaried melodic music, I can write melodies and come up with something a little more complicated."
Main motivation
Campbell said the main motivation that made him start this album came during COVID-19. There was a period at St. David and St. Paul's Anglican Church in Powell River, where he is on the music team, when live music could no longer be played.
"Everything had to be pre-recorded," Campbell said. "That meant pre-recording some vocal chorus music, but I also wrote some instrumental preludes. I deleted them and recorded and thought, 'These are actually pretty good. put an album.
"That's what really motivated me to go back and put these new ones on a record, dig up some stuff that was lying around on my computer and put it together."
Campbell said releasing an instrumental album was something he had wanted to do for a long time. He said the pandemic was a good time to really connect with his instruments. He also performed live on Facebook for a year and a half on Wednesday nights and kept his skills up to date.
"It was a real learning experience, coming to terms with the technology, which is always a challenge," Campbell said. "I mean, which button do I press? »
Campbell said today that he performs for the love of music. He said that was past the stage where it was all about money.
"Now it's about looking like you have that ability and so it should be shared with others," Campbell said. "That's really what I love, feeling like I'm doing something that benefits people.
"I'm grateful that people still seem interested in what this old man has to say. I made this album for my own satisfaction, but I thought that other people would like it too.
Most of the music was recorded in Campbell's home studio and music room. One cut was taken from a live recording at Duncan, and another cut came out of the recently deceased Randal Drader's studio.
"It's a way of saying I miss you, mate, and here's what we did," Campbell said. "He was a big part of the music scene in this town."
This is Campbell's sixth full-length album. He also recorded an EP with Dennis Fox and "way, way back" he recorded some 45 RPM singles on vinyl. He is no stranger to the recording process.
Campbell, being a multi-instrumentalist, played most of the instruments on the album. In addition to guitars, he played bass, keyboards, drums and harmonica. He said creating the album was a learning experience.
"I love being 70 and still learning steadily all the time," Campbell said. "You realize that the more you know, the more you realize you'll never get out of it. If you like to learn, like me, it's such a joyful thing.
Regarding the use of a number of "axes" on the album, Campbell said they don't all sound the same, so variety is needed.
"The classical guitar I play sounds very different from the electric Strat that's featured," Campbell said. "They have the same number of strings and are tuned the same, but the technique for playing them is quite different, such a finger style versus using a flat pick."
Songs have stories
All the songs on the new album have a story behind them. For example, the first cut called "Latinica" is a Latin-style tune, with the main instrument being a harmonica on a stand around his neck while he plays guitar. The next track, "Slapstick Rag", is played on his old upright grand piano, in the style of Jelly Roll Morton, who was a master of old-school ragtime music.
"Blues 96" is a straightforward blues composition, using not only his electric guitar, but his dobro-style axe. He also explores swing, funk and rock on the album.
"It's really, really eclectic," Campbell said. "I even have a piece of electronic dance music there. That's one of the reasons why I put a lot of styles in the album title, so people wouldn't be surprised.
"It's a satisfying challenge to make these attempts. It stretches you.
Campbell applauds musicians who create new music today but are rooted in the old.
"I listen to old Count Basie and Duke Ellington records, and I think I could live to be 150 and not be able to play as well as those guys did," Campbell said. "This stuff that straddles the line between blues and jazz is the real sweet spot for me.
"But, I can still put old blues in the musicianship, not high level, and it still hits me. This primitive stuff is so good. It's so full of emotion and impact.
Those who wish to access Many axes, many stylescan find it on bandcamp.com by searching Ron Campbell's name in the search engine.