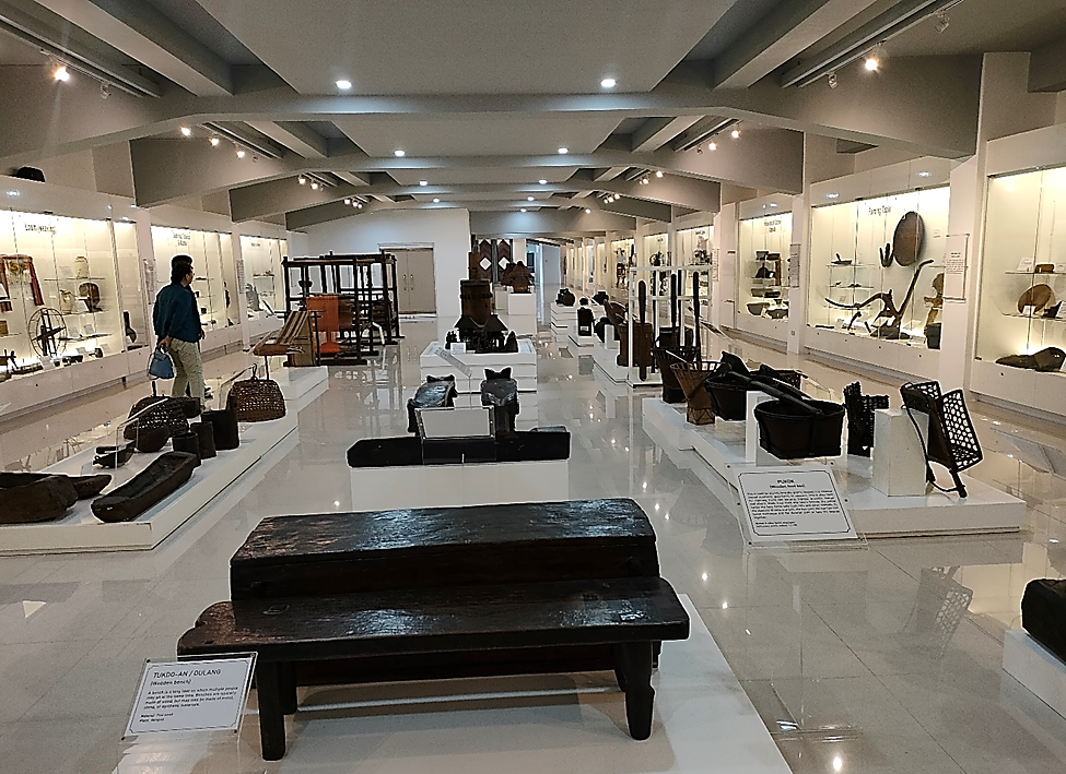 A Visit to the Museum of Cultures and Arts Igorot
Saint Louis University, Baguio City
by Geneviève B. Kupang and Gaston P. Kibiten
"Everything must come to the soul from its roots, from where it is planted." – Saint Teresa of Avila
Mulugod naming binabati ang while learning how to do Buwan ng Wika (Happy greetings to all in celebrating a meaningful "National Language Month")!
To celebrate Language Month, this article will allow you to read the terms used only by the people of the Cordillera Administrative Region (CAR), in the northern part of the Philippines, and see some of the items that are inside the Museum of Cultures and Arts Igorot (MICA), an ethnographic museum.
Dapilan (traditional sugarcane presser): Dapilan extracts the juice from freshly cut sugarcane stalks. The rods are introduced between the two wooden cylinders, which are made to turn against each other thanks to a lever moved by men or nuwang (water buffalo). The rotating cylinders crush the sugarcane stalks and squeeze their juice, which flows through a channel and into a container. The juice is processed to produce basi (fermented sugarcane alcohol), tagapulot (brown sugar) or inakub (disc-shaped sugar caramel). It should be noted that 'dapilan' is only found in the warmer mid to lower elevations of the Cordilleras where sugar cane grows in abundance. Photo credit: Matthew Henri B. Kupang
This pandemic has given my youngest son and I the opportunity to visit one of my alma maters, Saint Louis University in Baguio City, specifically the Museum of Cultures and Arts Igorot, located in the building of the university library, the Msgr. Charles Vath building. I met an anthropologist brother there, Dr. Gaston "Buhay" Kibiten, curator of the museum.
In an epitaph, we learned that the museum is dedicated to the grateful remembrance of CICM pioneer missionaries from Belgium and the Netherlands who served in the Cordillera region (then called Mountain Province) in the early 1900s.
You have come and gone
Like flowers growing, lighting up the land
withering at the end of their season
Lest the collective memory fail,
let this humble space keep your names
and the faces disappear…
L: Rev. Seraphin 'Seraf' Devesse, CICM, founder of Saint Louis School (SLS) in 1911; A: Rev. Florimund Carlu, CICM, the missionary who succeeded Fr. Devesse in 1913 and developed SLS.
The museum also pays homage to the ancestors of the Igorots who fiercely defended their independence and way of life against Spanish colonial rule and influence. Their challenge – for which they paid so much – led to the preservation of much of the region's native pre-Hispanic cultures. The artifacts exhibited in the museum are part of this invaluable heritage, which is available to all to be enjoyed and enjoyed.
CICM collections and archives
The Museum has a special room for artifacts and documents associated with CICM missionaries.
'Kul-log' as a Christian altar: The kul-log is a wooden storage bin traditionally used for the safe storage of jars, rice, cereals and foodstuffs. The CICM missionaries, with their appreciation of the local culture and their initiatives in favor of the inculturation of the Christian gospel, intentionally transformed this kul-log into an altar, with another smaller one into a matching tabernacle. These were used in the chapel at Saint Louis University from the late 1990s to around 2010.
In this section is a collection of Catholic religious artifacts that were donated by the late Fr. Lode Wostyn, CICM, in loving memory of Antoon and Ines Wostyn-Spiessens of West Flanders, Belgium. Prof. Lode arrived as a missionary in the Philippines in 1969. He has served as a professor at San Carlos Seminary in Manila, Maryhill School of Theology (MST), Quezon City, Saint Louis University, Baguio City and in other schools. A prolific theologian, he is the author of several books and articles on theology. He passed away in Torhout, Belgium in 2020. Well, Gaston and I were privileged to be under Fr. Lode's tutelage at MST.
Altarpiece of the Blessed Virgin Mary. This carved wooden altarpiece is part of the collections in this section.
The term Igorot
For readers outside the Cordillera, the term igorot is explained by renowned anthropologist and historian William Henry Scott in "The Origin of the Word 'Igorot'" (1971). It comes from the root word golot (relating to Tagalog gulod), meaning "mountain range" and the prefix I, meaning "the people of" or "the inhabitants of". An indigenous Filipino word originally meaning "mountaineer", it appeared in early records of the conquest of Luzon. In 1700 it was applied by the early Spaniards to those living in the mountains of present-day provinces of Nueva Vizcaya, Pangasinan, Ilocos Sur, Benguet, Mountain Province, Ifugao, and extended to Apayao in the 1770s and Kalinga in the 1970s. 1880. By the early 1990s, the term was being used by American anthropologists for all peoples of the Cordilleras, including the Tingguians of Abra…"
Main gallery sections
The museum has several sections, each with its own description: 1) wood arts; 2) musical instruments; 3) clothing and textiles; 4) personal adornments; 5) bags and accessories; 6) spirituality and ritual; 7) architecture of the house; 8) Household and kitchen utensils with subsections: food bins and storage food bins and dishes; cooking tools; food processing equipment; rice husking tools; 9) furniture and equipment, 10) agricultural tools, 11) rain and sun protection, 12) hunting, fishing and food gathering, 13) loom (weaving) tools, 14) blacksmithing, carpentry and stone carving timber, 15) gold mining and processing, 16) livestock tackle; 17) betel nuts, tobacco, alcoholic beverages, 18) weapons, 19) funeral articles. 20) photographs/paintings of Igorot folk life, 21) prehistoric stone tools, 22) collections of other Filipino ethnic groups, 23) CICM collections and archives, and 24) miscellaneous.
L: Menkalkalaleng ay am-ama (a man playing the nasal flute): An artistic woodcarving depicting a man playing the nasal flute, wearing various Igorot accoutrements and surrounded by familiar animals. A: Solibao and Gangsa (conical tenor drum and brass gongs from the North, Philippines). Photo credits: Matthew Henri B. Kupang.
wood arts
Traditional Igorot wood carvings were limited to human figurines like the Boulol and the tinataggu. There were also surface carvings of human, animal, and geometric shapes on the posts, beams, doors, and walls of houses, which resembled the patterns found in textiles. These were artistic works but had more ceremonial and symbolic functions. However, since the 1950s, wood carving has gone beyond traditional forms and their symbolic-ceremonial functions. All kinds of objects were carved, either as decorations for utilitarian objects or purely for artistic expression and appreciation. [The collections presented are mainly contemporary artworks depicting aspects of traditional Igorot cultures and everyday life.]
Musical instruments
Music was part of the daily life of traditional Igorots. The main musical instrument shared by the different ethnic groups is the brass gong. Played together as an ensemble (although in varying numbers), gongs were mainly used during community festivities and large ceremonies and were always accompanied by dancing.
In addition to gongs, there were other instruments that can be classified as wind, percussion or string instruments. Wind instruments include mouth and nose flutes, panpipes, mouth harps and horns. Percussion instruments are thrbalimbing, patatag, tambi, tungatong, tal-lak, and solibao. String instruments are ageldang/akelshang and the kulit-tong (bamboo zither).
Matthew Henri B. Kupang, Museum Archivist Dr. Gaston P. Kibiten, and Dr. Genevieve Balance Kupang. "A fruitful tree never ceases to bear fruit even during the most difficult seasons," a Ghanaian-American friend, Dr. Emmanuel Sogah, once told us. This is true for the MICA Archivist and his Ariel team who used the pandemic lockdowns to assess, itemize, label, section, organize, hang and display ethnographic artifacts that tell the interesting stories in a story and serve as support pedagogic. hub for visitors and locals. Photo credit: Ariel Herrera.
More topics to discover
We hope to offer you more educational information in future articles in the series. Come, enjoy and learn from the ethnographic exhibits at the SLU Museum of Cultures and Arts Igorot.
---
About the authors:
Gaston P. Kibiten is curator of the Igorot Museum of Cultures and Arts and coordinator of the Center for Native Studies at Saint Louis University, Baguio City. He also chairs the board of directors of the Igorot Global Organization scholarship program, which helps promising but financially disadvantaged students in the Cordillera administrative region.
Genevieve Balance Kupang. President of Iyaman Interdisciplinary Research and Development, Vice President of Sandiwa, Lay Associate of the Episcopal Commission on Interreligious Dialogue of the CBCP; the chair of the special interest groups of the Global Council for Curriculum and Instruction; and founder of the Asian Social Institute.